Vibration Analysis
Unexpected downtime due to system failure is incredibly expensive. In fact, about 98% of companies reported more than $100,000 in lost profit caused by just one hour of downtime, according to some reports.
Recent advancements in equipment monitoring capabilities are changing the way plant maintenance engineers plan for repair and maintenance needs. Vibration monitoring systems, in particular, provide an excellent method for maintenance workers to predict equipment repair and maintenance needs before catastrophic failure.
Reliability provides plant workers with predictive maintenance capabilities using a vibration monitoring survey that can detect equipment faults before system failure.
Vibration Survey& Predictive Maintenance
Vibration monitoring survey empower plant workers with predictive maintenance capabilities using conditioning monitoring and data analysis.
With our vibration survey, maintenance managers can dramatically reduce the risks associated with unexpected downtime. Using information gained from vibration analyzer and historical data from past system malfunctions, can predict your maintenance and repair needs before catastrophic failure for improved productivity and profitability.
Contact us to get an appointment – To ensure your Operation reliability
Choose Machine Health Monitoring survey – Create equipment database
Our team has beenusing vibration monitoring equipment for more than 10 years, enabling improved productivity and profitability across a variety of industry settings. The vibration analyzer detects even the most minute details about your machinery health and performance, providing the most sophisticated insights available to enable predictive maintenance at your plant.
Able to detect bearing wear, gear mesh issues, temperature fluctuations, and more, vibration monitoring survey are uniquely capable of setting a new standard for your plant's maintenance strategy.
Protecting against financial damages incurred from unnecessary downtime starts with strengthening your maintenance strategy. With thesurvey based report, you can reduce the likelihood of complete system failure and improve productivity and profitability for your plant.
Contact us to get an appointment – To ensure your Operation reliability
Reliability on routine-based program
When it comes to your plant's maintenance needs, there's no better tool available than Condition monitoring and histological data. Collecting a wide range of key performance indicators from your essential systems, our survey will deliver the insights necessary to help you for better prediction of equipment maintenance and repair needs.
Bring improved reliability, security, productivity, and profitability to your plant.
Diagnosing Machine Health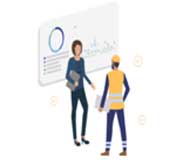 Asset recordings are compared to tens of thousands of recordings from similar assets.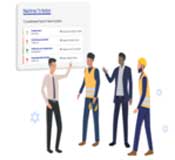 Simplified and actionable machine health diagnostics are delayed directly to site teams at the first sign of any developing malfunction.
Vibration Analysis / Condition Monitoring
We offer 2 types of Vibration Analysis / Vibration Monitoring services to complement your Condition Monitoring / Reliability program.

They are:
Route based vibration analysis survey
Troubleshooting vibration analysis
We use the latest advanced analyzer to carry out the task. These analyzers are the industry standard workhorses and allow us to collect highly defined waveform spectra and multiple trends of known bandwidths which leads us to very quick analysis of problem areas. Because of the speed of the analyzer we can cover up to 50 machines data* in a day as long as they are available and do not need to be swapped over. We are also giving you the report and any recommended remedial actions. We believe this is important rather than giving the data to someone back to analyses. We use our engineering experience to analyze the machines problem as soon as possible and the data will be analyzed in the system, the reports will be issued on priority basis. We try, if possible, to arrange the corrective action. This could be a process alteration, flow rates, or speeds to identify the problem. We find this extra information either cures the problem or helps with the exact remedial work to efficiently solve the problem.
Analysis we perform are:
Single, dual, or four-channel vibration analysis
Cross-channel analysis
Transient analysis
Structural analysis

We can trend data from various tests to gain a more holistic view of the machine's condition to predict when corrective maintenance needs to be performed.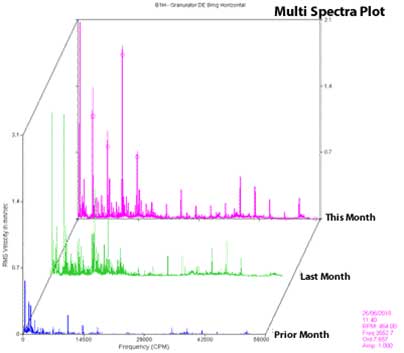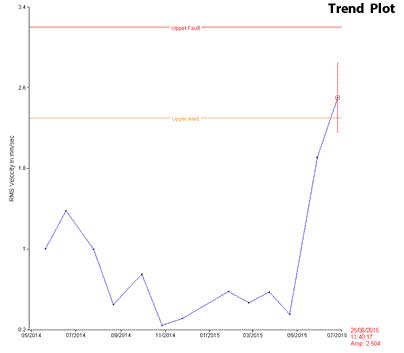 We monitor and trend all types of rotating machines such as:
Motors AC/DC
Pumps
Gearboxes
Fans / Blowers
Turbines
Compressors
Centrifuges/Decanters
Drum Dryers /Slow Speed Trunnions
Paper Machines
Any Accessible Rotating Equipment
With Problems such as:
Imbalance
Misalignment
Looseness (Mechanical/Structural)
Coupling Faults
Resonance
Blade Pass /Vane Pass / Lobe Pass
Cavitation / Recirc
Felt Barring
Gear Problems
Bearing Faults
Lubrication / Friction
Electrical Motor Frequencies (Rotor Bars /Electrical imbalance)